Greetings all,
Back again with some teasers for you guys. As most of you know I am a fan of the holidays and I try to do a themed set every now and then. So for national slut day err I mean Halloween I have the ladies in some themed clothing doing what they do best.
Worry not I am still working on the Cassidy set as well, though it is kind of fun to being able to jump between this many scene/sets. I am not sure how long I am going to make the Halloween one, but I'll try to make it fun for you all.
The Egypt story is still in the works. I ended up writing too much of a pre story and making it more long winded than it needed to be. I blame this on all the down time at work lately, I end up over thinking these scenarios and them vomiting my thoughts out into Word and having to widdle it down from there. Soon though I promise.
On another note, I have been toying with the idea of getting my own official site with forums. The ultimate goal is to build a community around the monster genre. As 3DX is growing rapidly in size and scope and it would be nice if we had a home where we could exchange ideas,art,etc. So let me know what you guys think.
Enjoy the pics!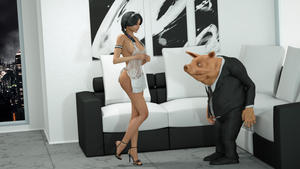 *Cassidy set samples*
*edit*
Added wallpaper requests from last post
Checker
Randall