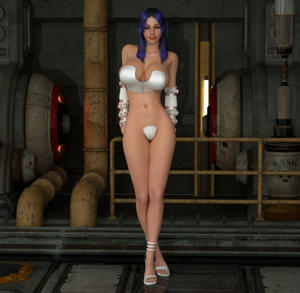 Name: Sylvia Summers
Height: 5'5
Weight: 125
Age: 25
D.O.B 11/7/2280
Bio:
Sylvia is the result of a scandalous union between a powerful (married) politician and a very talented stripper. She grew up never knowing her father, but did not want for anything. Her mother was overly cautious raising her, not wanting Sylvia to share the same seedy fate as herself.
Still genetics cannot be denied, and Sylvia's mother became even more overbearing when it became apparent that she inherited her mother's looks. As a result she spent most of her teen years indoors or under adult supervision. Her social repression during these formative years caused her to be far more curious sexually than other horny teenagers her age. Long hours indoors with unrestricted extranet access only fed her curiousity, which later became a fetish.
Sylvia's mother realized her daughter needed companionship and in lieu of her sweet 16 had bought her a Spog (a being similiar to a dog). Known for being surprisingly intelligent and fiercely loyal it seemed like the perfect gift for her sheltered daughter.
Unknown to her mother Sylvia had already taken a keen interest in interspecies sex. Having a male spog in the house was a blessing in disguise. With a little help from the xtranet and a bit of confidence she eventually got Xilo to mount her, taking her virginity. The experience (besides being mindblowingly awesome) was life changing for Sylvia.
Upon graduating high school she entered the naval academy eager to break the chain of seclusion that was her life. Her father's unseen influence landed her in the prestigious officer training program. It is here where she met the young Juli, and found the two had much in common. She had inherited her father's ability for leadership, and excelled in her chosen field. Being a top graduate of her class, she was scouted by private space-faring corporations eager for young talent. She took a position with OmniTron. After 2 years of leading successful scouting and recon missions she was promoted to First Officer aboard the starship Andromeda...
Sets
Rescue
Consentacle